Posted by Ada Coddington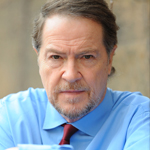 Things fall apart; the centre cannot hold;
Mere anarchy is loosed upon the world,
The blood-dimmed tide is loosed, and everywhere
The ceremony of innocence is drowned.
—William Butler Yeats, "The Second Coming"
Things are falling apart.
How much longer we can sustain the fiction that we live in a constitutional republic, I cannot say, but anarchy is being loosed upon the nation.
We are witnessing the unraveling of the American dream one injustice at a time.
Day after day, the government's crimes against the citizenry grow more egregious, more treacherous and more tragic. And day after day, the American people wake up a little more to the grim realization that they have become captives in a prison of their own making.
read more at Rutherford.org – John Whitehead commentary
R3publicans: https://R3publican.Wordpress.Com